Dating with Schmucks
---

DESCRIPTION
Dating with Schmucks is a dating simulator. It is entertaining and fun, but also a learning platform in the style of "choose-your-own-adventure". The text-based adventures help players make a decision during difficult moments and prepare for possible scenarios in real life. Players are faced with a series of conversation choices as they date the character of their choosing. What will be your worst dating simulation in the game and how would you prevent that on a real date?


---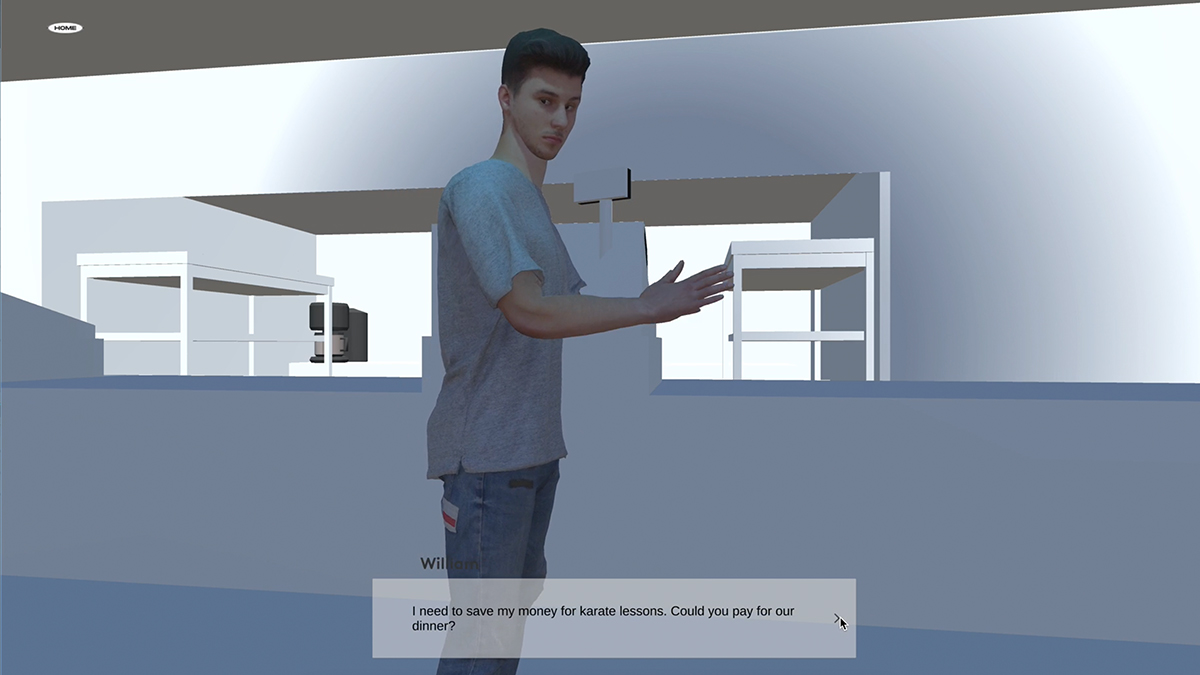 ---
Why do we need the dating simulator like this?

Parodying the traditional dating simulation games or apps including sims or tinder, Dating with Schmucks breaks the stereotype of the usual fantasized dating games and gives a new experience for people who have trouble rejecting people. This comic approach to each ridiculous personality brings about a result of farcical laughing from the game along with valuable social skills that will help players in real life.

From a sociological perspective, people these days have a greater need for an intermediary and simulation in the dating process. Keeping up the pretense that they might one day meet a quirky person they are interested in.

Dating with Schmucks will follow the player's date and save you from schmucks in real life! It is an interactive story where your match is the unexpected schmuck. How will you refuse them?


---
---
REFLECTION
I recreated the whole game. My first idea was a dating coach. Dating Coach is a romance simulation game/experience that offers dating tips and improves dating life. Following the voice, users are guided to each scene. Each scene contains possible dating scenarios. Each scenario will contain a questionnaire about the dating experience portrayed, aiding users in getting closer to a successful date. Unlike the current version, the game was based on user's dating experience. Because of the tight schedule and lack of experience, my original plan following dating experience diagram did not go well. I made the decision during the design process to give up a selection of the scenes and focus on half of the diagram, for people with no dating experience. In addition, I faced a technological obstacles of making inside scene games.

So I change the whole logic and flow by getting more inspiration from dating apps and creating a more personalized experience, such as choosing personalities (Jesus Lover, Ultra Free Spritual, Ninja Enthusiast). This change brings the overall tone of the game into a more sarcastic realm.

Still it was hard to make a smooth interaction and flow in each scene as a beginner in Unity. However, It was a good idea to jump into UI design and scene building right away instead of spending most of time on rendering scenes. As I started building the scenes, I learnt a few important keywords including scene management, set.active, raycast and FPS controller. Though I started adapting the code I found on Google or Youtube, it was a rewarding opportunity to gain the basic knowledge of C# language.
---
PROCESS
Unity

REPOSITORY


https://www.youtube.com/watch?v=IEV64CLZra8

https://www.youtube.com/watch?v=LziIlLB2Kt4

https://www.youtube.com/watch?v=EANtTI6BCxk&t=55s






---